Greetings HBC employees!  Joe Morse here at Fort Vancouver National Historic Site. This week I present to you my ninth Service Spotlight, where I interview a volunteer from one of our sites to get a better sense of what they bring to our volunteer program, and any other cool tidbits about them.
This February I had the opportunity to interview Larry Baer.  Larry is a new volunteer in our historic carpentry shop and I had the pleasure of screening and interviewing him for the position.   Previously having had experience with modern carpentry, doing historically accurate work with hand tools is a whole nother ball game for him.  Which only serves to boost his enthusiasm to tackle the new challenge.  His assistance and positivity are a real boon for the Fort!
Here's the transcript of my interview with Larry:
How long have you been volunteering at Fort Vancouver?
Ah geez, let's see here…Almost going on six months.  After six months, the friendliness of poeple makes it feel longer.
What do you typically do in the carpentry shop?
I do what my capabilities allow me to do.  I've been a power tool guy my entire life.  With non-power tools, I am not yet able to build something big like a table from scratch.  Jeff, the other new guy, we are going to fix the wheel barrow.  I can fix things, but I can't make things from scratch.
How did you hear about the carpenter shop volunteer opportunity?
I moved out here in 1999, but just visited the Fort last September.  I got in a 30 minute conversation with Tom Dwyer, he encouraged me to apply online, and here I am!
What's your favorite thing about volunteering in the Historic Carpentry Shop?
Learning how to use hand tools.  You can't just put it in a machine and flip a switch.  It's not automatic.  You have to stop and think more about what you are doing.
What keeps you volunteering?
I have the time, and most importantly, my dad was a volunteer, despite having two jobs.  When I was a kid, a volunteer coach helped me play baseball, and I figured I'd give back.
What the biggest challenge of being a volunteer and how do you overcome that?
Challenges are from something you have to do.  I don't consider volunteering something I have to do.  I volunteer here because I like it.
What's one thing you'd like to tell people who come to the carpentry shop?
In respect to what the carpentry shop was, this was a hard life.  In Ohio I could fly and see my family every 3 weeks.  Every time I fly across the country, I think about the settlers out here who never got to see their family again.
Any cool facts about yourself that people should know?
Growing old is required, growing up is optional.  I am light at heart.  How can you go through life without having a sense of humor?  You are only as old as you think you are.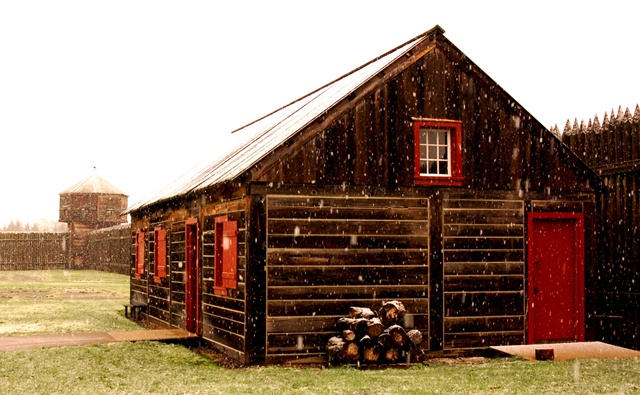 That's a wrap! Come visit the Historic Carpentry Shop, and check out the cool objects our volunteers having been building.  And stay tuned for next month's April Spotlight.